Why True Hair?
Why Choose True Hair For Your Surgical Hair Transplant;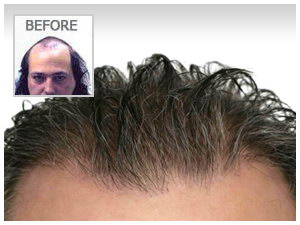 1. Our surgical team has over 55 years of hair transplant experience and has transplanted millions of hairs in 1000′s of successful procedures!
2. True Hair is one of the few clinics to specialize in the newest and most effective hair transplant techniques:
**The Single Follicular Unit (SFU) dense-packing technique which facilitates a permanent, thicker and absolutely natural hairline.
**The Follicular Unit Extraction (FUE) method, the latest breakthrough, which is perfect for those of you who may be nervous about surgery, because it is a SCALPEL-FREE technique that also allows us to give you a permanent, thicker and natural hairline.
**Now specializing in the latest development in hair replacement surgery; body hair transplants (i.e. Chest Hair). For those clients that want to facilitate greater yield and/or for those clients that lack sufficient donor follicles.
3. We're industry leaders in fixing older and badly done hair transplants or corn row style hair transplants.
4. Our procedures require no special maintenance and no bandages: you can go to work the next day.
5. You'll see faster and fuller results, with industry leading mega-sessions of up to 4500 single follicular units.
6. We're more affordable than ever, thanks to our new price structure and today's low interest rates.

Our Guarantee
If you are not satisfied with the naturalness of your procedure with True Hair, we will re do the procedure free of charge! read more>
Transplant Follow-Up
After your hair transplant, our expert stylists and hair care specialists are there for you. We offer a full line of quality hair care products that will help you keep your new, full head of hair looking its best. And our professional hair design and hair styling services will keep you looking your best. However, since it will be your own, real, growing head of hair, no special care is required, and you can choose to use the standard hair care products you used in the past, and you can go to any hair salon.
---