Non Surgical Hair Replacement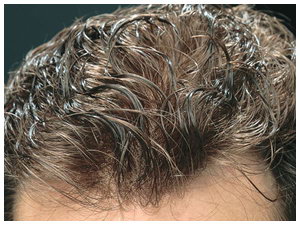 For a number of reasons medical and otherwise, some people simply are not suitable candidates for hair transplants. This would be determined when you come in for your free consultation. If you do fall into this category, then we offer you the option of our exclusive uni-strand non-surgical process, which is totally reversible and more economical than transplants.
What makes our uni-strand process so unique is our ability to exactly duplicate your hair growth pattern. By injecting one hair at a time into a skin-like matrix we are able to give you an undetectable new head of hair. A head of hair that looks and feels so natural, no one can tell, even when you come out of a pool or someone runs their hands through your hair.
Our single strand injection process allows for greater flexibility in styling, regardless of whether you wear your hair super short or slicked right back. We are so confident in our uni-strand process and our exclusive invisible hairline that we offer you an unconditional total satisfaction guarantee. Although we firmly believe that the quality of our work speaks for itself, don't take our word for it, just ask our clients. We would be more than happy to have you speak to a number of clients that have had our process done. So check us out, we have nothing to hide but your thinning hair.
ATTENTION CLIENTS OF OTHER HAIR REPLACEMENT COMPANIES
If you are currently experiencing dissatisfaction with your hair replacement facility, in terms of delays for appointments, unsatisfactory quality, and ridiculously high prices, give us a call.
We guarantee you the utmost attention to detail and customer service in a friendly and comfortable environment.
THAT MEANS;
Appointments within 24 hours…..guaranteed
Unsurpassed quality…..guaranteed
Lower prices…..guaranteed
Plain and simple, the closer you look the better we look